#UtahNationalParks
#Motorcoach Tours, #RailTours, #FlyDriveTours
Tell us: who will be traveling, what are you most preferred travel dates, hometown airport, or Train Station if traveling by rail. Tell us: your wants, needs, desires, expectations and budget, and we will find the right trip for you.
Utah 150 Million Years 

in the Making

Arches National Park Tours
#Arches National Park is one of five National Parks in #Utah. Each of these "Mighty Five" parks claims its own way of showcasing the magnificent geologic diversity of the #Colorado #Plateau. Arches National Park Tours showcase the more accessible of more than 2,000 arches – the highest concentration of arches on the planet. Driving and hiking through this #Jurassic aged wonderland provides a glimpse back in time when gentle geologic forces from deep below the surface bulged upward to crack the surface sandstones into fins. Telling you the secret of how these fins of sandstone then became delicate ribbons of stone suspended in mid-air is a mystery we will leave for the tour. Step right this way!
ARCHES NATIONAL PARK SUNSET DISCOVERY
See Arches National Park at its best- during sunset! Take this scenic bus tour and see all the best sights from the comfort of our tour bus. A perfect trip for all ages.
Duration: Approximately 4 hrs
Departure Times: Times vary depending on sunset.
Season: Year Round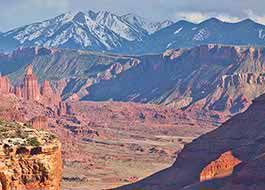 ARCHES NATIONAL PARK AIR TOUR
Fly over spectacular formations such as Courthouse Towers, North and South Window Arches, Delicate Arch, Devil's Garden, the Colorado River, Fisher Towers, and Castle Valley. Youth 2 and under fly free on a parent's lap.
(2 person minimum per flight)
Duration: Approximately .5 hrs
Departure Times: 10:30 AM
Season: Year Round
Desert Solitaire & Arches Park
Arches National Monument was set aside in 1929 when Ed Abbey, famed monkey wrencher for the environmental movement, was just a babe. By the late 1960's Arches was prepping a promotion from "monument" to "park" and Abbey was right there in the lonely backcountry working as the one-and-only backcountry ranger. Abbey's time spent in the desert (feeling conflicted about keeping it to himself and sharing the beauty of arches with the "tourists") is cleverly documented in his nationwide-environmental-cult-inducing book "Desert Solitaire".
Arches National Park boasts the highest density of natural arches in the world with more than 2,000 – 43 of which have collapsed since 1977. 150 million years in the making, and we are lucky enough to see the show!

Ways to Explore Arches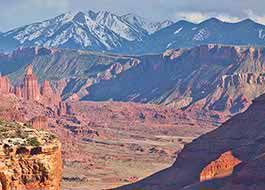 ARCHES NATIONAL PARK AIR TOUR
Starting at $109
per person
Learn More: EMAIL #JessKalinowsky JESS@FriendsTravel.com 24|78|365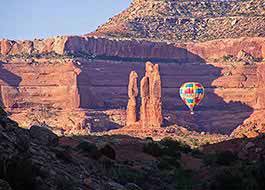 #MOAB SUNRISE #HOTAIRBALLOON RIDE
Starting at $299
per person
Learn More: EMAIL #JessKalinowsky JESS@FriendsTravel.com 24|78|365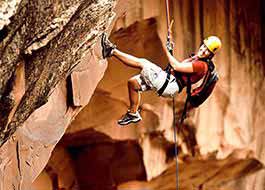 #MOAB #CANYONEERING ADVENTURE
Starting at $107
per person
Learn More: EMAIL #JessKalinowsky JESS@FriendsTravel.com 24|78|365